As any successful bienniel should, 'Quiet as It's Kept' strives to mirror the social and political climate of its day, and in their introduction its curators Adrienne Edwards and David Breslin warn us to expect 'precarious' and 'improvised' approaches to selection. Probably not the words paid guests hoped to read before entering the heart of America's artistic zeitgeist, but such are our mercurial times. The curators have scrapped the longstanding emphasis on emerging artists by including a host of deceased artists on the roster. It is no mean feat to break a status quo that has endured since the Biennial's inception in 1973, but which has, over the past decade, come under scrutiny, especially with Dana Schutz's contentious painting in 2017 that depicted Emmett Till's mutilated body, and the furore in 2019 when eight artists withdrew their works after a board member's ties to military suppliers was revealed (Artnotes AM429). Compiled mostly during the pandemic, this year's over-ambitious offering plays too many cards all at once, although some clever, pertinent gestures traverse far beyond the now and into the future. 
The Whitney's vast 5th and 6th floors are divided in atmosphere in an endeavour to reflect polarising differences in society through clunky curatorial tricks of deception – the walls on the 6th floor are painted entirely black while the space is gutted on the 5th. The top floor is intense and claustrophobic, mostly housing exceedingly long videos – some  over two hours in duration – and a small showering of theatrically spotlit sculptures and paintings. Crowds quickly flocked around Jonathan Berger's intricate neon installation An Introduction to Nameless Love, in which dialogues, lyrics and poems are spread across a room in metal-soldered lettering, and Rebecca Belmore's plaster-cast sculpture Ishkode (fire) of a life-size figure wrapped in a sleeping bag surrounded by bullet casings. Mediated by the photo-bombing of fellow visitors on social media, these grand gestures were inevitably emptied in advance of viewing the works in person. However, Dave McKenzie's memorable two-screen video Listed under Accessories, follows the artist awkwardly manoeuvring a pane of glass and a wooden receptacle. Attempting impossibly to mould his body to the hard edges, he fumbles and clutches at the objects; the suspense, during a compellingly fixating half-hour in which little is achieved, is paradoxically captivating, a metaphor, perhaps, for many artistic endeavours.
In stark contrast, quiet gives way to raucousness as the palpitating noise from Alfredo Jaar's video installation pulsates a few feet away. 06.01.2020 18.39, traces the peaceful protests in Lafayette Square following the uprising sparked by George Floyd's brutal murder, until a jarring gust from heavy-duty fans installed in the ceiling simulate the downwash from a circling helicopter. Jaar hauls us directly to the scene, the fierce blast mimicking tactics used by the US military to deter protesters, debris hurled into their faces. It's a harrowing, uncomfortable five minutes, some viewers fleeing, trembling like Michael E Smith's motorised sculpture Untitled, in which kneecaps rattle inside plastic bottles at the exit.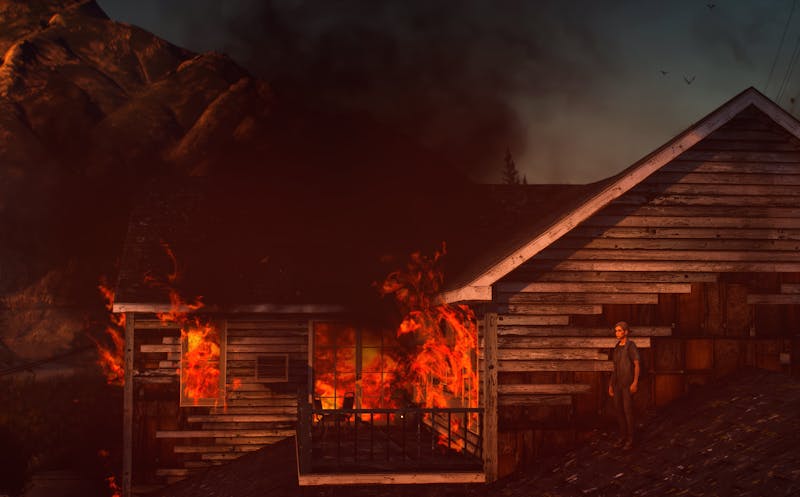 After the more cerebral exhibits on the 6th floor, the 5th is a morass of paintings, sculptures, tapestries and the odd film. There is no prescribed direction of travel; visitors are encouraged to invent their own labyrinthine pathway. The largest work, A Clockwork, by Sable Elyse Smith, is a captivating sculpture with the same hulking dimensions of a Ferris wheel. Made entirely of tables from a prison, Smith chooses the familiarity of a travelling carnival to monumentalise America's flawed judicial system, suggesting it's an adjunct of the entertainment industry. As the monument slowly moves, attention is drawn to the sound of its mechanism turning as well as the ticking speed of our contemplation. Jacky Connolly's film Descent into Hell, deals in similar thematics of pace in which four monitors present a modified version of the videogame Grand Theft Auto V with its infamous violence entirely removed. The narrative unfolds over a 3D animation of a woman roaming through an abandoned Los Angeles. Protracted scenes distil time into a suspended ambience; a world she once knew has all but collapsed, the whole scenario eerily reminiscent of lockdown.
In place of the walls, the 5th floor is divided by a conglomeration of tapestries, paintings and sculptures hanging off freestanding wooden structures which only seem to limit the breathing space between works. At one end, at first glance, it looks like a building site: Jason Rhoades's large, cumbersome sculpture Sutter's Mill, features a shovel, scaffolding, corrugated metal, a hard-hat and work lights, which will be gradually dismantled over the course of the Biennial – although it rather seemed as if it already had been. Behind it, more leftovers: another Michael E Smith sculpture, this time comprising a cabinet with a broomstick on top, cleverly placed between a translucent curtain that enables us glimpses of Theresa Hak Kyung Cha's provocative portraits from her 1976 film Permutations. There is a seamless honesty to this grouping, both quietly strident but not demanding; a much-needed curatorial aperture to sharpen the exhibition's sprawling focus. Towards the very back of the space is Rose Salane's installation 64,000 Attempts at Circulation, which comprises three tables with piles of fake coins she sourced from NYC Metropolitan Transit Authority, all of which had been used to pay bus fares in place of authentic currency. Three extensive typed lists reveal Salane's archiving of each 'coin'. It is as much about identity as about money, each casino token, plectrum, metal washer or engraved medallion signifying a successful duplicitous act, compelling the viewer to riffle through the pile much as she did, in search of novelty, desperation and ingenuity. 
For all that it bombards viewers with art, 2022's Whitney Biennial demands numerous return visits. The 3rd floor alone is dedicated to the important Cassandra Press (initiated by featured artist Kandis Williams) the walls lined with relevant clippings on race and feminism which require close reading. Meanwhile, yet further sculptures on either terrace fall short, afterthoughts to the bevy that surrounds them. Take what you will from 'Quiet as It's Kept', but you might leave wanting less, rather than more.