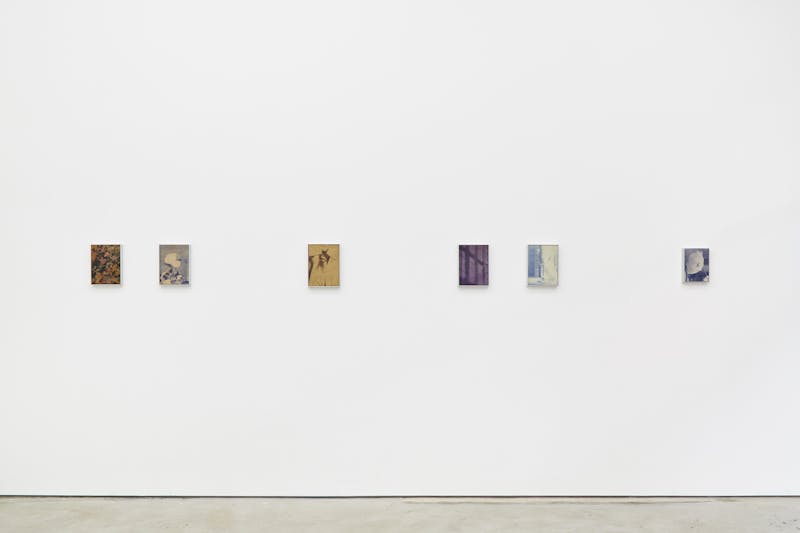 As the early sun peeps into view, Poppy takes the short walk to her secluded studio in rural Sussex. Drowsily wading across fields, having been acutely alert from her duties mothering a young child – the oxymoronic title, Bright Sleep captures the charged psyche she feels most days.
Poppy is well-attuned to the intricacies of her craft, having graduated with a Masters in printmaking at the Royal College of Art in 2010 and since tutored at West Dean College – the art school in Sussex founded by poet and patron for the surrealists, Edward James. She retreated to her studio of solace, away from the bustle, during the lockdowns of the past year, quietly developing a distinct process of printing that merged her other interests: painting and photography. She refers to her pieces as 'objects', limboing between printing, painting and photography, neither decidedly one or other. Using a lithographic process where she'll print a photograph on to a polyester plate coated in water and oil, Poppy manipulates her objects by working into the surface with watercolours. So much of printmaking follows rigorous procedures, but Poppy's routine is much more intuitive and unpredictable. No two are the same, each impossible to replicate exactly. Often she'll work on a piece for a few days using a paint brush or her fingertips. She calls the process 'shadowing': each image suggests or mimics reality, as a shadow does.
Poppy doesn't have to look too far for inspiration, distilling familiar sights from her home in unfamiliar close-up: an empty glass, a jacket collar, garden flowers, the shadow from a window. She takes quick snapshots when a vision blooms, deliberating on a few perspectives and crops before transferring it on to plate. Working on identically sized panes, all no bigger than the pages of a book, Poppy's pieces unfold like short aperçus of a story.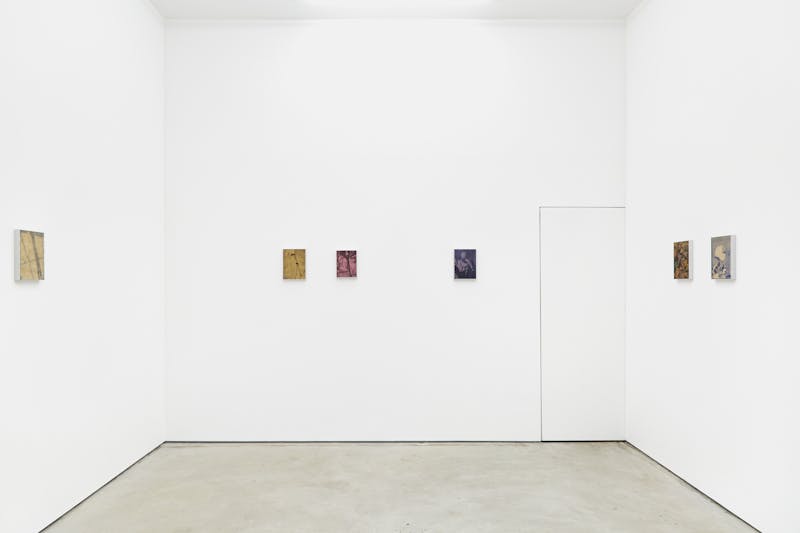 Each still life is to scale as she sees it, yet you'll notice a subtle heightening of drama: perhaps a more pronounced shadow in one, or an over saturation of colour in another. Her interest in surrealism is perhaps motivated by her imminent surroundings in Sussex. In the early Twentieth Century, and during the Second World War, an influx of modernist writers and artists (Virginia Woolf, Lee Miller and Edward Burra among them) moved here to live and work. Today, surrealist artist John Stezaker resides in the county. Poppy's experience of tutoring at the college founded by a frequent collaborator of Salvador Dali's has meant she was frequently surrounded by a deluge of surrealist art: Pavel Tchelitchew' eccentric painting of a concert scene was one of many she was drawn to. Slowly these surrealist influences seeped into Poppy's art: she'd often cogitate on a painting for reference before starting her own. Recently, one of the lesser known female Surrealists, Edith Rimmington, has made a mark on her mind: in particular, a painting of repeated eyes reflecting on to a glass vase.
For the Bright Sleep series, Poppy worked on to suede and silk, often hoarding scraps from eBay, or cutting up her old jackets. The fabrics absorb oil and paint in different ways: the delicate silk soaks them up, bleeding the colour deep into its fibres, whereas the tough suede makes blotchy stains, sensitive to the lightest of fingerprints. You'll notice the surfaces look saturated, as if they've been reclaimed from history. If you look closer, the details aren't always as they first seem. Deciphering if a mark is the remnant of ink from the plate or Poppy's deft brush work adds to the intrigue.
While she works, Poppy usually reflects on André Kertész's photograph of artist Piet Mondrian's studio, foregrounded by a fake flower in a vase. Poppy's pieces are composed in a similar vein – seemingly everyday sights from the home, depicted with a sleight of hand or subtle glitch. There's an unmistakable familiarity to what she sees – because we see it too. But where we might consider such moments fleeting, Poppy makes them last forever.